About Ron Nierenberg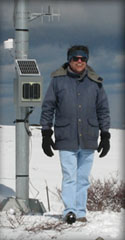 Ron was raised in New York and New Jersey. At the age of 20, he moved to California where he earned a B.A. in Geography from California State University (CSU) in San Francisco in 1971 followed by a B.S. in Meteorology from CSU in San Jose in 1976.
Ron has spent 40 years as a meteorologist with 41 years in the field as a wind energy meteorologist since 1978. In doing so he has sited/assessed over 21,178MW of capacity, with over 19,300MW in the US alone, one of such projects being the original wind study of the Altamont Pass, which led to the installation of $1.5 billion of wind turbines on the world's first windfarm. Ron has overseen many wind monitoring programs to assess economic viability throughout the U.S. as well as Canada, Latin America, China, India and the UK. He has additionally designed and managed federally funded wind studies, which resulted in the authorship of two DOE/NREL (SERI) reports.
In 2013, Ron helped form ensemble wind, a group of highly experienced meteorologists. Each of the group members have 30 years of experience in the wind industry.
For all of this and other work, Ron was given a special award "For making critical contributions to the development of wind energy in the U.S. and around the world", presented by the American Wind Energy Association in April 1998.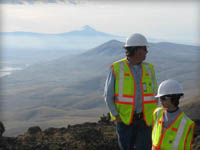 Outside of the field, Ron's other accomplishments include having built one of the largest operating 0 scale toy train layouts in the Pacific Northwest, with 2 operating windfarms as well as having pursued the study of North Indian Classical music. In California, he spent over 30 years under the musical instruction of Ali Akbar Khan until 2002, when he and his family moved to the state of Washington, where they currently reside. Ron has raised one step daughter from a previous marriage and now has a teenage son, who has had a few occasions to get on-site and see his dad's work first hand.